Making waves for 75 years - Swim Coach, Janet Price
25 January 2021
|
Kyle Lauf
Sitting beside the 25m club swimming pool in eastern Johannesburg, the lanes fill up with youthful swimmers who greet her affectionately before starting their training sets of warm-ups, kicking drills and individual strokes. This is the next generation of South African Olympic hopefuls.
A driving force in South African swimming since the 1960s, Janet Price has left a lasting legacy in the sport, giving generations of swimmers the skills to swim; from two-year-old toddlers learning to be comfortable in the water, to elite level Olympians aiming for world records, national benchmarks or personal bests. She is the mother of Dean Price, who is currently the manager of swimming excellence at Swimming South Africa and the head coach at Mandeville Dolphins swimming club. Daughter Leighann is also a coach.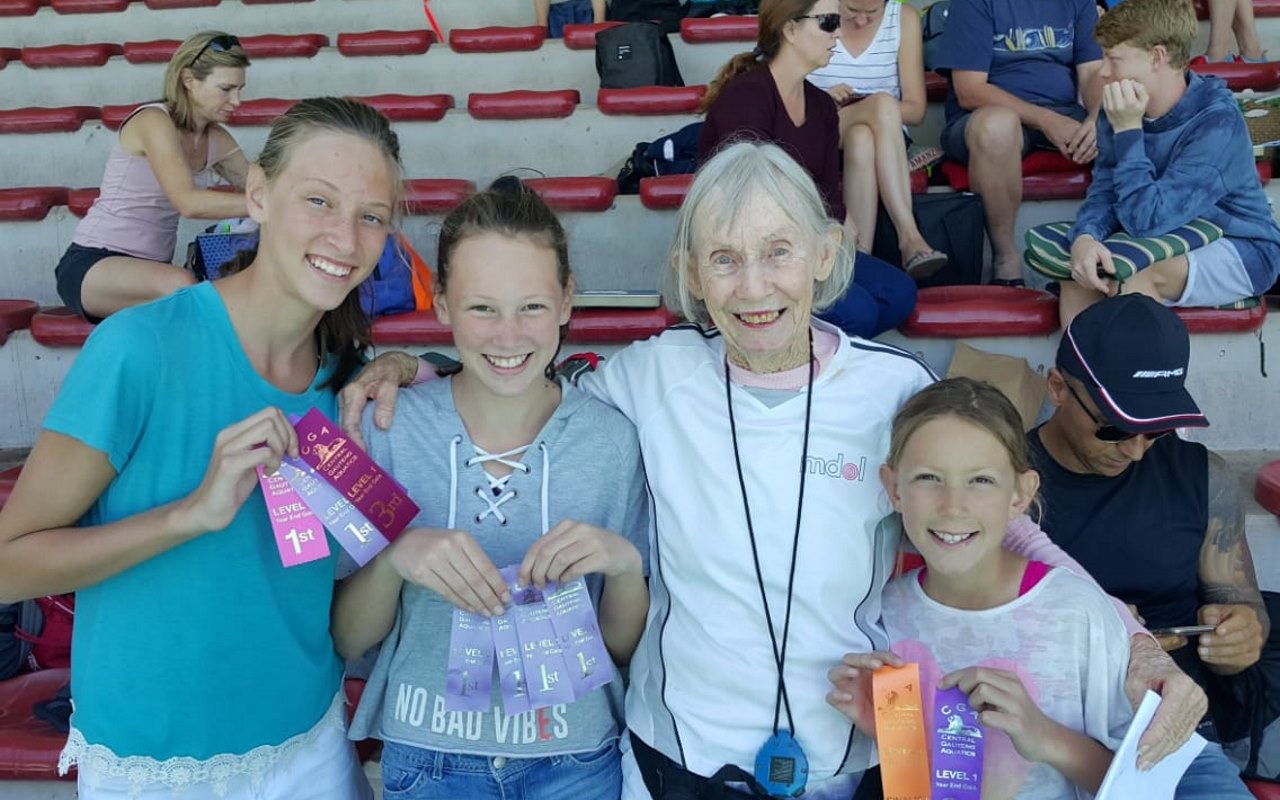 Born Janet Lee Baird in 1933 in Oklahoma City, USA. This was during the Great Depression, a time of extreme economic hardship in America and around the world. Her first memory is of her mother, sewing. One of three children, they grew up very poor and her mother would sew to earn an income. Later when her father went off to fight in World War 2, her mother got a job in a munitions factory.
For Christmas one year, she remembers receiving a special gift from her aunt – a packet of hard candy. This was such a rare treat, she would suck the sweet for a while, then return it to its wrapper to be enjoyed the following day.
Learning to swim at an early age, Janet was an incredibly hard worker with a passion for life. At the age of 12 she started teaching younger children to swim at the YWCA and local swimming pool. By 14 she had attained certificates in life saving, first aid and other skills. She got straight A's in high school and played clarinet in the marching band. At 18 she received a full academic scholarship to Oklahoma University. While a student there she played softball and table tennis and won the state badminton championship.
But swimming was her forte. She was a junior national champion in the individual medley, while winning the Southwestern USA title in both 100-yard butterfly and breaststroke. She was also a synchronized swimming champion. While continuing to hone her coaching skills and practical experience she completed courses in advanced swimming & diving, and swimming for people with physical disabilities. While still a student, she coached at the university women's aquatic club as well as at the Navy depot as a survival swimming coach.
"I always had a determination to do everything really well," she says. Her determination came from a supportive family and the example of her hard-working mother who would wake up at 3.30 in the mornings. She had an internal resolve to succeed and improve herself. "My family were always very proud of me – I liked working and studying. I didn't want to be poor," she says.
At university, she met her future husband, South African long jumper Neville Price, who won gold at the 1950 Empire Games (precursor to the Commonwealth Games) and competed at the 1952 and 1956 Summer Olympics. He had also been a scholarship student at Oklahoma University, competing for the Sooners' track and field team.
Janet recalls returning with her husband to South Africa where they would settle down and start a family. "We took a ship from New York to Amsterdam, and from there on to Cape Town," she says. "We travelled first class and were invited to dine at the captain's table – all because my husband was so well known."
When they arrived in South Africa she started teaching young children to swim in Johannesburg and Durban. She hired lanes at municipal pools in Norwood, Rosebank, Ellis Park, or taught in private pools. Around that time, she assisted the renowned Cecil Colwin in coaching the South African national swimming team.
When they bought a house, she oversaw the building of a 25m pool on their property in the suburb of Cyrildene, together with a second 'teaching pool' for toddlers. Later they built a roof over the pool. In those days there weren't many swimming teachers or coaches in South Africa. She would coach from 4.30 in the mornings, and then again in the afternoons.
Janet and Neville had four children: Dean, Greg, Leighann and Glen who all grew up swimming. Dean broke a number of South African swimming records and became the fastest 12-year-old in the world. He went to America to train with the renowned USA Olympic coach, James 'Doc' Counsilman, one of the great innovators and coaches of the sport and Mark Spitz's trainer. Janet befriended Counsilman together with the likes of Forbes Carlile, the 'father of modern Australian swimming'. She studied their techniques and innovations and adapted them for her local swimmers.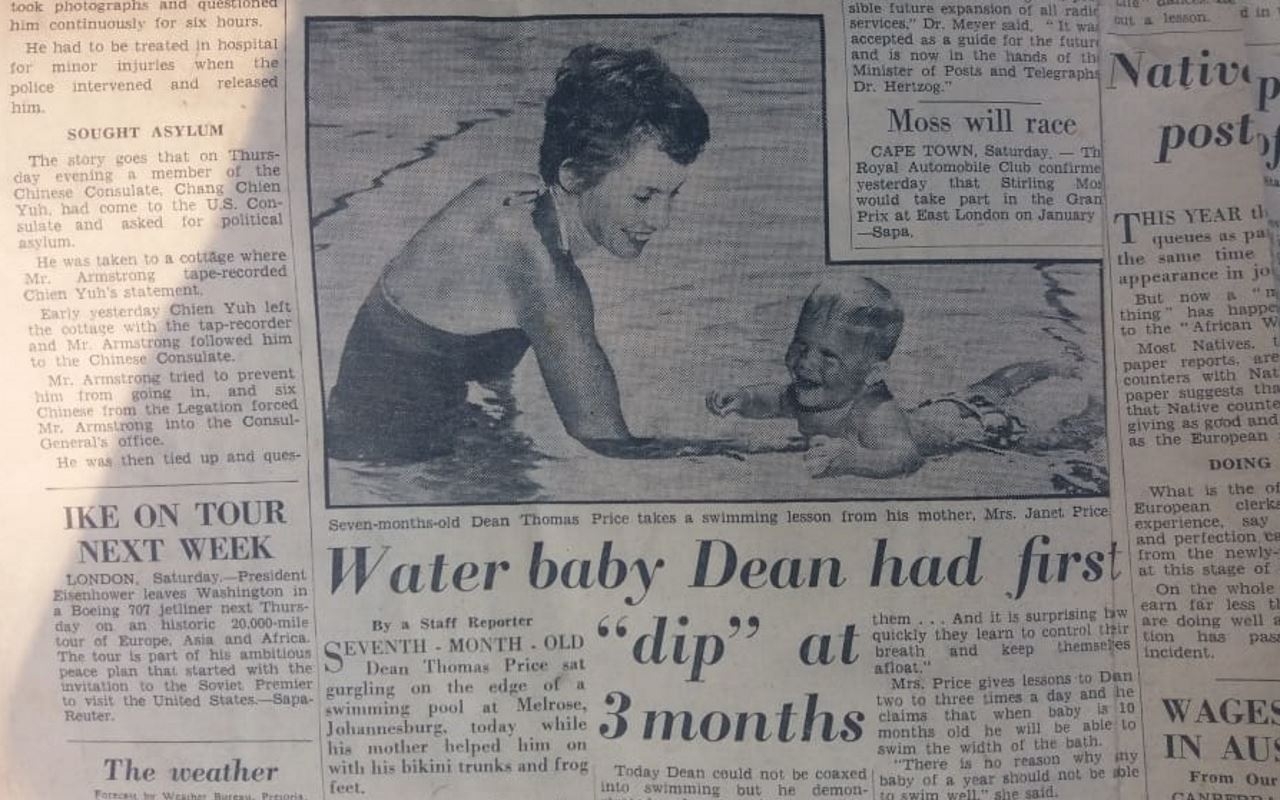 Growing international opposition to Apartheid meant that South Africa was prevented from sending a team to the 1960 Olympic Games. This isolation continued until 1996 when the country returned to the Games in Atlanta. One of Janet's top swimmers, Amanda Loots, competed at Atlanta and two further Olympics.
Janet's age-group swimming teams were feared across South Africa, dominating galas all over the country. She pioneered many coaching methods across the different stages of swimming, especially teaching toddlers to swim from a young age. "Every child will react differently to the water and every child must be handled differently," she believes. Central to teaching and coaching is mutual respect between coach and student. "Develop a rapport between yourself and the child," she says. Janet has passed on a deep love for the sport. "I just love coaching – I love every minute of it," she says. "It doesn't matter which level they are on, I enjoy seeing their progress. I'm a natural born teacher. I hardly ever miss a day of teaching or coaching."
She still coaches at least three times a week at Mandeville Dolphins swimming club. At 87 she's still going strong.
Article and photos submitted by Kyle Lauf