Product Care
Customer service
My Account
Need assistance?
Contact Us
Monday - Friday
08:30am - 04:30pm
021 - 180 4444
Send an email
Product Care
Speedo products are technically designed to endure many different types of environments. No matter how well we design and manufacture our products, it is up to you to follow the wash and care instructions provided with each product. Below you will find general wash and care information for various types of products and materials found in our products.
Please note that you must read each products wash care label before washing it to ensure you do not damage it.
Wash care label example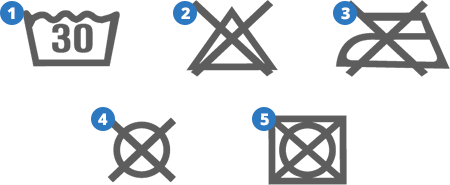 Wash at or below 30°C
Do not bleach
Do not iron
Do not dry clean
Do not tumble dry
GENERAL WASH CARE
Wash with 30°C lukewarm water
Don't tumble dry
Don't iron
Don't dry clean, use bleach or use fabric softener
Wash like colours together
Tips
Don't use liquid detergents
Double rinse
Q: How to care for a swimsuit?
A: Rinse your swimsuit in cold water after use and allow it to dry naturally, away from direct heat and sunlight. Do not use soaps or detergents to clean your suit. Do not wrap your swimsuit in a towel as this retains chemicals and heat in close contact with the garment and may cause premature deterioration of swimwear. For regular use of swimwear we would advise customers to purchase from our Endurance+® range as these are 100% chlorine resistant.
Q: How to care for my goggles?
A: To preserve the life of your goggles and keep them in good condition we recommend you follow these rules:
Spend a minute cleaning the lenses after every swim.
By gently washing them in lukewarm water you can remove any chlorine or harmful chemicals that will shorten their lifespan.
Don't ever use soap or detergent though as they are a natural enemy of the anti-fog coating.
After washing, leave your goggles to air-dry in a flat position. If they are left wet in your kit bag they'll most likely grow bacteria and mould.
Do not leave goggles in the direct sunlight for prolonged periods, this may affect the durability of the straps.
Our care instructions are also available on this video.
Q: How to prevent the goggles from fogging up?
A: Misting or fogging on the lens of a swimming goggle is caused by the difference in temperature between the cold water and the warm skin and eyeball of the swimmer. This temperature difference causes the water to condense on the inside of the goggle lens causing water droplets to form and restrict the visibility of the swimmer. The first step to achieving a fog free swim is to check your current goggles. In some cases where goggles are used on a very regular basis the goggles can out live the anti-fog coating. If you've had your goggles for a long time and they have been well used it might be time to consider investing in a new pair if you are having fogging problems. There are two types of anti-fog coatings that we use at Speedo, anti-fog and anti-fog ultra. These coatings work by making it a lot harder for condensation to stick to the lenses.
Polycarbonate lenses (hard lenses that don't bend at all, often the choice of competitive swimmers such as our IQfit range) anti-fog is sprayed on the inside of the lens.
Cellulose Acetate lenses (slightly flexible lenses designed for comfort such as our Biofuse range) are impregnated with an anti-fog ultra solution in the manufacturing process, as this is impregnated and not coated it will not wear away. In order to maintain your goggles it's important to clean your lenses after every swim, and keep them safe in a pouch to avoid any scratching or rubbing.
Leave the goggles to air dry in a flat position and try to avoid rubbing the lenses or touching them, as this may start to remove the anti-fog coating. If you look after your goggles from day one you will be able to preserve the anti-fog coating for a lot longer. Ensure your goggles are fitted correctly to your face and adjusted accordingly; this will help to stop any leakages.
To help you make the right choice when purchasing new goggles all Speedo goggles feature the anti-fog and anti-fog ultra logos. Always read your goggle instructions to ensure you're taking the right precautions for the different types of anti-fog to preserve the coating – after all, they are a really important part of your kit!